We were 7 people for this trip. We booked a Xylo which was comfortable for all of us and our back packs. Luggage was on the carrier. We booked it through Himalayan Tours Studio – +91 9419441522 / +91 8494038049 . You can contact the drivers directly too. For Srinagar Sajad – +91 8803310924 and for Leh onwards, Mr Naamgyal ( you can get in touch with the studio for his number) . Alternatively, you can contact Riyaz travels too – +91 9419019325 . It costed us total of INR 54,000 for the vehicle, permits and driver costs. Riyaz also had the same cost. SUV is the smallest car available there. It's better to have 5-7 people to reduce the cost. For more than 7 (maximum 13) , there was an option of minibus – INR 70k.
Our bookings for the vehicle were done 2 days prior to the trip. We were on the verge of cancelling the trip because of unrest in Srinagar. But we took a leap of faith ( by talking to friend's relatives in Srinagar) and left. The cost of the same vehicles were INR10,000 to INR20,000 lesser 2 months prior to our departure.
Keep in mind you need an extremely experienced driver to manoeuvre these treacherous roads. So make your bookings through a renowned agency. We were lucky to have expert drivers on our trip.
4 of us booked our flights in February. Mumbai to Srinagar was approx INR7-8000. Leh to Mumbai was approximately INR13,000. I found Goibibo the cheapest. We could've saved a couple of thousands here by booking different flights by ourselves. But keep in mind to keep a gap of an hour or 2, in case the previous one gets delayed, you have buffer time with you. 2 of our friends had a layover at Delhi. The timings on their tickets were different from the actual timings and they missed their flight! They then booked another flight to Srinagar.
There are 2 routes to reach Leh. Manali to Leh. Srinagar to Leh- many blogs say that this route it much better because of gradual increase in the altitude compared to Manali Leh road. Hence, there's no / less problem in acclimatazation. Consume a lot of butter and onions to avoid problems from altitude.
27TH MAY, DAY 1: PICK UP FROM SRINAGAR AIRPORT AROUND 3PM AND LOCAL SIGHTSEEING.
TEMPERATURE- APPROX 7-9 IN THE NIGHT AND 27 IN THE AFTERNOON.
We went to check out house boats on Dal Lake and wasted 2 hours in bargaining because th owner wasn't budging at all. He quoted INR 9000 for 2 rooms for 7 people. After seeing his property and bargaining for 2 hours ( clear waste of time ! ) we left. While we sat in the car, he came down to our price of INR5000. We said we'll think over it. Driver took us to a hotel, they quoted INR 5600 for 3 rooms plus breakfast for 7 people. Hotel Green Ambition –
We had our lunch in the same hotel. Driver took us to a garden. Later a shikara ride INR2200 for 2 shikaras.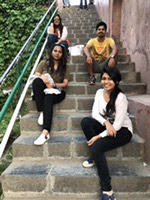 At the garden
Beautiful flowers
View from Shikara
We had dinner at a local restaurant and headed to our hotel.
2 militants were killed that morning and hence data was shut in entire JK.
Next morning we had to leave at 5-5:30 because the locals predicted riots.
28TH MAY, DAY 2: KARGIL VIA SONMARG, DRASS AND REACH LEH BY 7PM
Sonmarg around 8am, 8-9 degrees. Drass around 2pm 25 degrees. Kargil around 5pm 20 degrees. Leh 10pm 10 degrees
We left at 5:30 am from Srinagar. Later we came to know there was stone pelting on any and all the cars post 6:30am.
We crossed Sonmarg ( breakfast) , zero point ( we stopped for photos, some fun activities and beverages) and Drass ( lunch) to reach Kargil.
On the way to Drass
Sonmarg
Crossing Zero Point
Zero Point
We headed for Leh the same day because we couldn't find any accommodation in Kargil and also apart from the war memorial there wasn't anything much to see.
At Fotu La
Inside Kargil War Memorial
We were reaching Leh around 9pm. The sky was BREATHTAKINGLY BEAUTIFUL! There were a ZILLION STARS! I wish I had a better camera to capture that magic. I hope you guys get to witness the same.
We reached Migza Guesthouse – +91 9469629994 at 10pm. It's opposite Zen Ladhak. We had our dinner ( home cooked Dal rice and papad) in the guesthouse.
29 MAY , DAY 3: LEH TEMPERATURE DURING THE DAY 27 DEGREES AND NIGHT 15 DEGREES.
We changed this plan of ours. We didn't have a car today because our itinerary spoke of resting. Migza guesthouse Aunty arranged a cabbie. We paid INR 2100 for 7 people and visited Magnetic Hill , Hall of Fame and Gurudwara ( had lunch at langar). We stopped by at the post office to collect the stamps.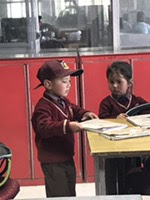 We were on the verge of kidnapping these cuties
Entrance of Hall of Fame.
Hall of Fame premises – goosebumps moments
Inside Hall of Fame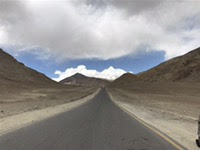 Magnetic Hill view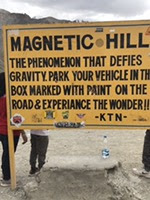 We headed for home to rest for few hours. Later we left for the market for shopping and dinner.
Few good joint places : Gesmo ( free WiFi) , Neha snacks and Lamayur (free WiFi) .
We also gave our ID cards to Himalaya Travel Studio ( Leh market) to get permit papers sorted.
30TH MAY, DAY 4: LEH SIGHTSEEING.
There were many places included but we consumed a lot of time in Thiksey monastery (first half). Second half 4 of them left for Shanti Stupa and 2 of my friends accompanied me to the doctor. Post doctor visit, 3 of us shopped in Leh market.

Inside the monastery- Lord Buddha
Some afternoon musings
Busy monks
The t shirts are between INR270-300. Mostly non negotiable price.
Jewellery between INR80-4000. They have real silver and stones too.
We purchased 65 small prayer flags in total and that's the reason we got it in INR25 each. We got this rate only at one place. We asked at some more 6-7 places, no one was ready to budge more than INR2 on the flags.
Today we also purchased Diamoxin ( one strip for INR 50) and oxygen cylinder (INR450). The medical shop had promised to refund INR400 in case it is unused. This was preparation for Khardungla – World's Highest Motarable Road -18300 feet! The oxygen level drops down drastically and hence the precaution.
31ST MAY,DAY 5: TURTUK VIA KHARDUNG LA AND HUNDER. OVERNIGHT IN TURTUK.
We left for Khardung La at around 8am after breakfast. Stopped at a place for hot beverages and then at Khardungla. We walked some 40 steps to pee and went breathless. Quickly clicked photos and hopped into the car. 3 of needed to pump oxygen before and after Khardung La. This was because one of them already hadmotion sickness and 2 of us are perennially weak. Just be mentally prepared adn strong, things will be fine like how it was for other 4.
1 World's Highest Mot-arable road
We wasted a lot of time while getting down because a mini bus ahead of us skid, our driver went to help them. A car ahead of the bus slipped near the cliff and hence they had to use chains on to the tyres.
We stopped for lunch then proceeded towards Hunder for sand dunes.
Almost Hunder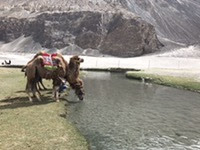 Fluffy camels near the dunes
We postponed Diskit to next day because of time crunch.
Post 7 hour journey we reached beautiful Turtuk and stayed at Mr Kareem's guesthouse – +91 9469541085. We spent sometime at Friend's Cafe and proceeded towards our guesthouse. We had local vegetable – Sag, Dal and rice ( home cooked ) for dinner.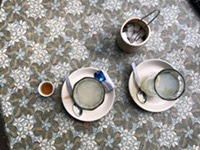 At Friend's Cafe
Turtuk
1ST JUNE, DAY 6: TURTUK TO DISKIT TO PANGONG TSO. OVERNIGHT STAY AT LAKE
Mr Kareem showed us around beautiful Turtuk for 2 hours! We met the locals, he told us stories, we saw a lot of vegetables and jaw dropping scenic views. This was the highlight of my trip. Turtuk is beautiful beyond imagination!!
Carry chocolates for kids. They are damn cute and have no access to chocolates. Some tourists fooled the kids to get clicked in exchange of chocolates and didn't end up giving them any !! So please carry some with you.
Gorgeous nature at Turtuk
Natural drinking water
Our guesthouse
We purchased dry fruits from Mr Kareem. His premises had dry fruit trees. He plucked them from the trees and sold it to us!
We spent INR700 per person for breakfast dinner and accommodation.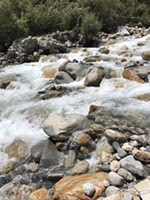 You beautiful Turtuk!
We left for Diskit. Had lunch at that monastery.
108 ft Buddha statue by Dalai Lama on the top!
Proceeded towards Pangong Lake and reached during twilight. We saw a few tents and guesthouses ( for the weak ones – my friend and I got fever that night). We paid INR 700 per person for buffet dinner, breakfast and accommodation. We stayed at WonderFall tents. Make sure you ask for enough of blankets, socks, gloves, jackets for the night. Few friends in the tent slept for only 2 hours because of too much cold! 3-5 degrees and EXTREMELY WINDY! If you think you can sustain the cold, please do it but for safety, please carry a lot of warm cloths. I had 4 layers of cloths. Unfortunately, we didn't carry more socks. We don't know how but our socks were wet in the night. Carry a lot of socks and tissues / toilet roll.
2ND JUNE, DAY 7: BACK TO LEH
Post breakfast we left for Leh. We rested and shopped on this day.
No filter photo of Pangong Lake
3rd June, Day 8 : Zanskar River rafting ( INR 1200 per person ) in the first half and then packing.

4th June, day 9 : Early morning flight to Mumbai.
Bye bye Leh
I spent a total of INR38,000 ALL incl. 2 friends booked the flights a month prior and so their flight cost was INR 26,000 one way. So make your bookings 4-5 months back.
There are a lot of share cabs ( Himalaya Travel Studio might be able to help, or else search in Leh city) available if you want to avoid local transport because of luggage.
You can read other blogs helpful to you